Fushigi Yugi Vol. 11: Veteran (Manga) (Books)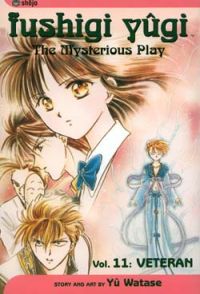 Manufacturer: Viz
Item Code: 159116107X
UPC: 9781591161073
Author: Y? Watase
S.R.P.: $9.95
Request this item from your local retailer!

The first Shentso-Pao trasure from the northern country of Bei-Jia was stolen from Miaka, and the only treasure left is in the western country of Xi-Lang - and both Miaka and her friend-turned-mortal-enemy Yui are intent on getting the treasure for themselves! But Xi-Lang isn't a frozen wasteland of forgotten dreams and ghosts like Bei-Jia. It's a vibrant, living desert country, whose inhabitants are veterans of the last clash between priestesses and gods!
FUSHIGI YUGI © 1992 Yuu Watase/Shogakukan, Inc.
Tracks