Rurouni Kenshin Vol. 4 (Manga) (Books)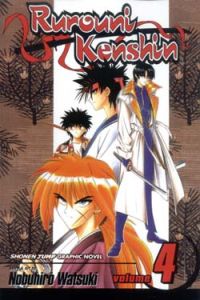 Manufacturer: Viz
Item Code: 1591162513
UPC: 9781591162513
Author: Nobuhiro Watsuki
S.R.P.: $7.95
Request this item from your local retailer!

Shinomori Aoshi was once the leader of Edo Castle's elite guard, the Oniwabanshu. But with the fighting at an end and the shogunate overthrown, the brilliant Aoshi and his four most loyal onimitsu, or spies, find themselves without a home or a purpose. When fighting is your life, loyalty to those lost ideals (and to the man who most symbolizes them) may be the one thing left. But Megumi's life is at stake and however sympathetic Kenshin may feel, he will fight on, to the last man if necessary...
RUROUNI KENSHIN © 1994 by NOBUHIRO WATSUKI/SHUEISHA Inc.
Tracks