Case Closed Vol. 3 (Manga) (Books)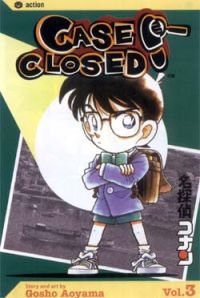 Manufacturer: Viz
Item Code: 159116589X
UPC: 9781591165897
Genre: Mystery
Author: Gosho Aoyama
S.R.P.: $9.95
Request this item from your local retailer!

Jimmy, Rachel and Richard take a vacation aboard a cruise ship - little do they know that the patriarch of the wealthy Hatamoto family is about to be murdered! With the perpetrator still aboard ship can you figure out who-dunit before Conan does?
CASE CLOSED © 1994 Gosho Aoyama/Shogakukan, Inc.
Tracks