Beet The Vandel Buster Vol. 1 (Manga) (Books)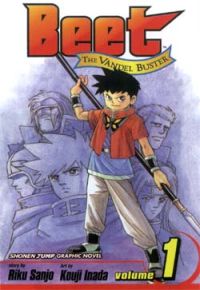 Manufacturer: Viz
Item Code: 159116690X
UPC: 9781591166900
Author: Riku Sanjo
S.R.P.: $7.95
Request this item from your local retailer!

During the Dark Century, demons known as Vandels unleash monsters that terrorize the world. Beet, a boy from a remote region known as the Uncruz, endures three years of training and sets out on a quest to defeat the Vandels. Hidden within him, Beet carries with him five supreme weapons called Saiga, inherited from five Vandel Busters. He and his childhood friend Poala set out on their journey as Vandel Busters, and Beet is destine to one day become the Adventure King.
BOUKEN OH BEET - BEET THE VANDEL BUSTER - © 2002 by RIKU SANJO, KOJI INADA / SHUEISHA Inc.
Tracks