NOTICE
Holiday Schedule
| | |
| --- | --- |
| September 7, 2015 | AAA Anime Inc. will be CLOSED on Monday in observance of Labor Day. |
Fushigi Yugi Vol. 15: Guardian (Manga) (Books)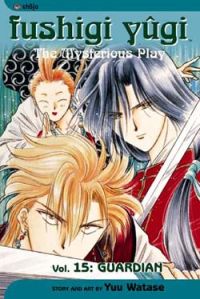 Manufacturer: Viz
Item Code: 1591168430
UPC: 9781591168430
Author: Yu Watase
S.R.P.: $9.95
Request this item from your local retailer!

Miaka must reenter The Universe of the Four Gods and collect the seven magic stones that contain her soulmate Taka's lost memories... or else risk losing him forever! Taka has always been the one who protected Miaka, so will she be able handle this new responsibility? And there's something unsettling about the new exchange student at Miaka's high school...
FUSHIGI YUGI © 1992 Yuu Watase/Shogakukan, Inc.
Tracks