NOTICE
Holiday Schedule
| | |
| --- | --- |
| July 4, 2018 | AAA Anime Inc. will be CLOSED on Wednesday in observance of Independence Day. |
Fushigi Yugi: Genbu Kaiden Vol. 2 (Manga) (Books)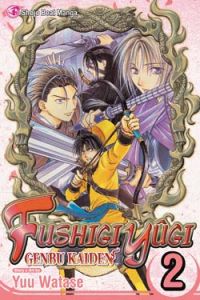 Manufacturer: Viz
Item Code: 1591169119
UPC: 9781591169116
Author: Y? Watase
S.R.P.: $8.99
Request this item from your local retailer!

High-flying romantic fantasy set in the universe of FUSHIGI YUGI! When along their journey Chamuka and Takiko come upon a burning house,
Chamuka tries to save a little girl's life and demonstrates his special power: to freeze things in ice! The effort weakens Chamuka though, and he must stay in the village to recuperate. The girl's family offers shelter, but her father sells Chamuka out to the bandits hunting him. That's when the Rimudo re-enters the picture...
Fushigi Yugi: Genbu Kaiden © 2004 Yuu Watase / Shogakukan Inc.
Tracks