NOTICE
Holiday Schedule
| | |
| --- | --- |
| July 4, 2018 | AAA Anime Inc. will be CLOSED on Wednesday in observance of Independence Day. |
Cain Saga, The Vol. 1 (Manga) (Books)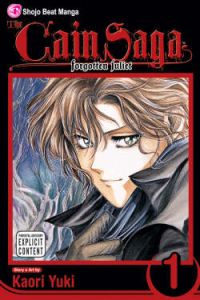 Manufacturer: Viz
Item Code: 1591169755
UPC: 9781591169758
Author: Kaori Yuki
S.R.P.: $9.99
Request this item from your local retailer!

Born under an evil moon harboring dark secrets, Earl Cain C. Hargreves, the youthful heir of the aristocratic Hargreves family, is a man on a quest to find the truth about his family's past. Written in dark, harrowing episodes, The CAIN Saga chronicles how Cain solves the strange crimes that seem to plague his cursed existence, yet somehow bring him closer to deciphering the puzzling circumstances surrounding his father's tragic death.
Five gripping stories of love, friendship and betrayal: "Forgotten Juliet," "Branded Bibi," "The Youths Who Stopped Time," "Double," and "The Death of Cleo" comprise this poignant first installment of Kaori Yuki's hit gothic manga series. Gothic fans will be left in awe long after this series has ended!