Mobile Fighter G-Gundam Vol. 3 (Manga) (Books)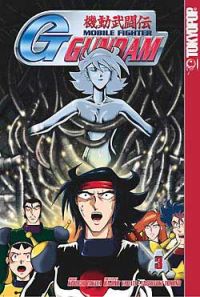 Manufacturer: Tokyo Pop
Item Code: 1591821681
UPC: 9781591821687
Genre: Action
Author: Hajime Yadate & Yoshiyuki
S.R.P.: $9.99
Request this item from your local retailer!

Domon Kasshu entered the Gundam tournament to find the missing Dark Gundam. Now the infectious evil machine is impossible to avoid as it grows and assimilates other Gundam Fighters, threatening not just the Gundam Tournament, but also the world! The contestants in the 13th annual Gundam Fight must put aside their competitive differences to unite against this ultimate threat. It's easy to fight with all your might against a faceless evil, but when the Dark Gundam assimilates Domon's home colony of Neo-Japan and his closest friend, Rain, can the Shining Gundam keep up the battle?
Tracks