Dragon Hunter Vol. 10 (Manga) (Books)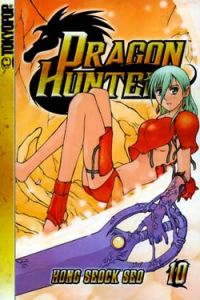 Manufacturer: Tokyo Pop
Item Code: 1591829585
UPC: 9781591829584
Author: Hong Soeck Seo
S.R.P.: $9.99
Request this item from your local retailer!

Fame, honor, and respect come with knighthood--but at what cost? Kok-Jung has been requested by Merlin to accompany him on a dragon hunt to capture Siegfried's Dragon. Merlin has some dark secrets and ulterior motives that only Beul-Hee knows about...but will she get the chance to tell Kok-Jung? Also, what exactly is the Wiseman's Stone and what power does it hold? Only Merlin knows, but his lips are sealed...
Tracks