NOTICE
Holiday Schedule
| | |
| --- | --- |
| Nov. 22, 2018 | AAA Anime Inc. will be CLOSED on Thursday in observance of Thanksgiving. |
| Dec. 24, 2018 | AAA Anime Inc. will be CLOSED on Monday for Christmas Eve. |
| Dec. 25, 2018 | AAA Anime Inc. will be CLOSED on Tuesday in observance of Christmas. |
| Jan. 1, 2019 | AAA Anime Inc. will be CLOSED on Tuesday in observance of New Years Day. |
| Dec. 31, 2018 | AAA Anime Inc. will be open for a half day. No outbound shipments are scheduled that day. |
| UPS Holiday Schedule Notes | UPS Guarantee is suspended for all UPS Ground shipments picked up or scheduled for delivery Nov. 26–Dec. 24. |
Evangelion: Shinji Ikari Raising Project Vol. 9 (Manga) (Books)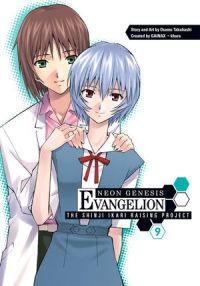 Manufacturer: Dark Horse
Item Code: 1595828001
UPC: 9781595828002
S.R.P.: $9.99
Request this item from your local retailer!

Face the thing that should not be! At last, Shinji, Rei and Asuka are being trained for actual combat, gats in hand--stalking a giant gelatinous creature with a spherical "core" they must take out. If this kind of mission sounds strangely familiar, you're right--but if things go as usual, it's poor Shinji who'll get called the slimeball!
Tracks