NOTICE
AAA Server Maintenance
| | |
| --- | --- |
| Mar 1st, 2019 | AAAanime.com will be performing maintenance and upgrades to our server and codes and the websites and functions may be periodically down for these upcoming weeks. |
Kiss Him, Not Me Vol. 10 (Manga) (Books)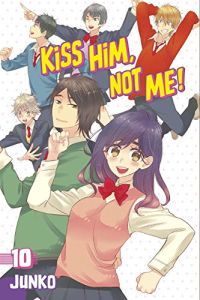 Manufacturer: Kodansha Comics
Item Code: 1632363445
UPC: 9781632363442
Author: JUNKO
S.R.P.: $10.99
Request this item from your local retailer!

Soon to be an anime series!

Kae is a secret fujoshi (female manga/anime nerd) who spends all day fantasizing about her male classmates making out with...each other. But when sudden, accidental weight loss makes her popular overnight, the boys start going after her instead!
Other products for "Kiss Him, Not Me" in "Books"

Kiss Him, Not Me Vol. 3 (Manga)

Kiss Him, Not Me Vol. 4 (Manga)

Kiss Him, Not Me Vol. 5 (Manga)

Kiss Him, Not Me Vol. 6 (Manga)

Kiss Him, Not Me Vol. 7 (Manga)

Kiss Him, Not Me Vol. 8 (Manga)

Kiss Him, Not Me Vol. 9 (Manga)

Kiss Him, Not Me Vol. 11 (Manga)

Kiss Him, Not Me Vol. 12 (Manga)

Kiss Him, Not Me Vol. 13 (Manga)

Kiss Him, Not Me Vol. 14 (Manga)