NOTICE
Holiday Schedule
| | |
| --- | --- |
| July 4, 2018 | AAA Anime Inc. will be CLOSED on Wednesday in observance of Independence Day. |
UQ Holder Vol. 10 (Manga) (Books)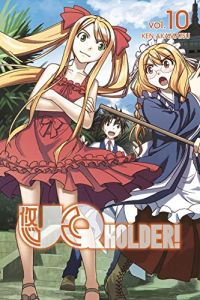 Manufacturer: Kodansha Comics
Item Code: 1632363534
UPC: 9781632363534
S.R.P.: $10.99
Request this item from your local retailer!

Negi Springfield, the boy wizard of the hit manga Negima!, fought and won many battles. Now it is decades later and Negi's grandson(!), a little boy name Touta, dreams of leaving his quiet village and heading to the City. But first he must defeat his teacher...the immortal vampire, Evangeline!