NOTICE
Holiday Schedule
| | |
| --- | --- |
| Nov. 22, 2018 | AAA Anime Inc. will be CLOSED on Thursday in observance of Thanksgiving. |
| Dec. 24, 2018 | AAA Anime Inc. will be CLOSED on Monday for Christmas Eve. |
| Dec. 25, 2018 | AAA Anime Inc. will be CLOSED on Tuesday in observance of Christmas. |
| Jan. 1, 2019 | AAA Anime Inc. will be CLOSED on Tuesday in observance of New Years Day. |
| Dec. 31, 2018 | AAA Anime Inc. will be open for a half day. No outbound shipments are scheduled that day. |
| UPS Holiday Schedule Notes | UPS Guarantee is suspended for all UPS Ground shipments picked up or scheduled for delivery Nov. 26–Dec. 24. |
Happiness Vol. 3 (Manga) (Books)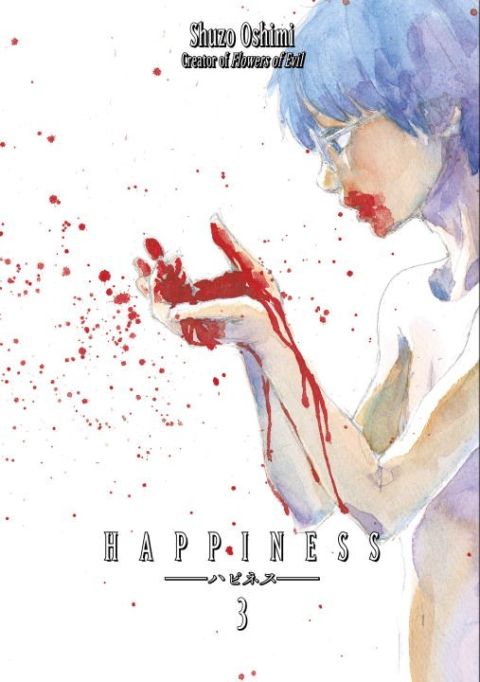 Manufacturer: Kodansha Comics
Item Code: 1632363925
UPC: 9781632363923
Author: Shuzo Oshimi
S.R.P.: $12.99
Request this item from your local retailer!

The biggest loser in high school goes out one night to return a DVD and gets attacked by a blood-sucking woman. She asks if he wants to die or live. He chooses to live...but when he's back in school he finds himself craving blood. When his desire becomes unbearable, and he realizes he has climbed onto a female classmate and is trying to bite her neck. He stops himself, but she hugs him close. She asks, "Did you really want me that much?"