NOTICE
Holiday Schedule
| | |
| --- | --- |
| Nov. 22, 2018 | AAA Anime Inc. will be CLOSED on Thursday in observance of Thanksgiving. |
| Dec. 24, 2018 | AAA Anime Inc. will be CLOSED on Monday for Christmas Eve. |
| Dec. 25, 2018 | AAA Anime Inc. will be CLOSED on Tuesday in observance of Christmas. |
| Jan. 1, 2019 | AAA Anime Inc. will be CLOSED on Tuesday in observance of New Years Day. |
| Dec. 31, 2018 | AAA Anime Inc. will be open for a half day. No outbound shipments are scheduled that day. |
| UPS Holiday Schedule Notes | UPS Guarantee is suspended for all UPS Ground shipments picked up or scheduled for delivery Nov. 26–Dec. 24. |
Complex Age Vol. 5 (Manga) (Books)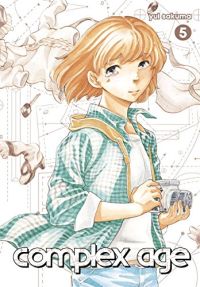 Manufacturer: Kodansha Comics
Item Code: 163236428X
UPC: 9781632364289
Author: Yui Sakuma
S.R.P.: $12.99
Request this item from your local retailer!

Twentysomething temp worker Nagisa Kataura lives like an average young woman - but she has a secret life. When she's not sitting at her day job, she spends most of her time transforming into her favorite anime and manga characters through the art of cosplay. Worried about being thought childish and nerdy, Nagisa struggles to keep her hobby a secret.