NOTICE
Holiday Schedule
| | |
| --- | --- |
| Nov. 22, 2018 | AAA Anime Inc. will be CLOSED on Thursday in observance of Thanksgiving. |
| Dec. 24, 2018 | AAA Anime Inc. will be CLOSED on Monday for Christmas Eve. |
| Dec. 25, 2018 | AAA Anime Inc. will be CLOSED on Tuesday in observance of Christmas. |
| Jan. 1, 2019 | AAA Anime Inc. will be CLOSED on Tuesday in observance of New Years Day. |
| Dec. 31, 2018 | AAA Anime Inc. will be open for a half day. No outbound shipments are scheduled that day. |
| UPS Holiday Schedule Notes | UPS Guarantee is suspended for all UPS Ground shipments picked up or scheduled for delivery Nov. 26–Dec. 24. |
Fire Force Vol. 6 (Manga) (Books)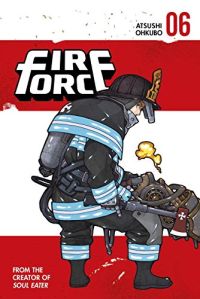 Manufacturer: Kodansha Comics
Item Code: 1632364786
UPC: 9781632364784
Author: Atsushi Ohkubo
S.R.P.: $10.99
Request this item from your local retailer!

In the year 198 of the Age of the Sun, Tokyo is a crowded cosmopolis. But the world's most populous city is threatened by devils that cause people to burst into flame at random! The only ones who can stop it are the Pyrofighters, a team of specialized firefighters. The young Shinra, blessed with the ability to ignite his feet and travel at the speed of a rocket, wants nothing more than to be a hero, and knows that this is the place for him! But he's not the best at following orders...