NOTICE
Holiday Schedule
| | |
| --- | --- |
| Nov. 22, 2018 | AAA Anime Inc. will be CLOSED on Thursday in observance of Thanksgiving. |
| Dec. 24, 2018 | AAA Anime Inc. will be CLOSED on Monday for Christmas Eve. |
| Dec. 25, 2018 | AAA Anime Inc. will be CLOSED on Tuesday in observance of Christmas. |
| Jan. 1, 2019 | AAA Anime Inc. will be CLOSED on Tuesday in observance of New Years Day. |
| Dec. 31, 2018 | AAA Anime Inc. will be open for a half day. No outbound shipments are scheduled that day. |
| UPS Holiday Schedule Notes | UPS Guarantee is suspended for all UPS Ground shipments picked up or scheduled for delivery Nov. 26–Dec. 24. |
UQ Holder Vol. 12 (Manga) (Books)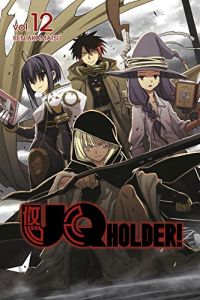 Manufacturer: Kodansha Comics
Item Code: 1632365782
UPC: 9781632365781
Author: Ken Akamatsu
S.R.P.: $10.99
Request this item from your local retailer!

Tota, a boy with a magical and mysterious pedigree, joins a team of immortals to fulfill his dream and reach the top of the great orbital tower, extending from Neo-Tokyo into the unknown reaches of space! But soon he finds himself embroiled in a power struggle that spans generations and will determine the fate of a planet.