NOTICE
Holiday Schedule
| | |
| --- | --- |
| July 4, 2018 | AAA Anime Inc. will be CLOSED on Wednesday in observance of Independence Day. |
Lovely Sick Vol. 2 (Manga) (Books)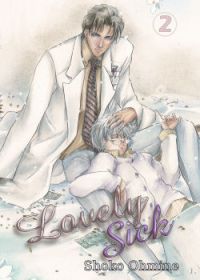 Manufacturer: DramaQueen
Item Code: 1933809019
UPC: 9781933809014
Genre: Adult/Yaoi
Author: Shoko Ohmine
S.R.P.: $12.99
Request this item from your local retailer!

Ryouichi Sumi has been researching for a means of rehabilitating Naoyuki Akiyoshi's injured leg, and at last he's found success. Or has he? Will having a normal life mean that Naoyuki won't need Ryouichi any more? Ryouichi fears losing his beloved to the unforeseeable future.

Tracks