NOTICE
Holiday Schedule
| | |
| --- | --- |
| Nov. 22, 2018 | AAA Anime Inc. will be CLOSED on Thursday in observance of Thanksgiving. |
| Dec. 24, 2018 | AAA Anime Inc. will be CLOSED on Monday for Christmas Eve. |
| Dec. 25, 2018 | AAA Anime Inc. will be CLOSED on Tuesday in observance of Christmas. |
| Jan. 1, 2019 | AAA Anime Inc. will be CLOSED on Tuesday in observance of New Years Day. |
| Dec. 31, 2018 | AAA Anime Inc. will be open for a half day. No outbound shipments are scheduled that day. |
| UPS Holiday Schedule Notes | UPS Guarantee is suspended for all UPS Ground shipments picked up or scheduled for delivery Nov. 26–Dec. 24. |
Animal Land Vol. 2 (Manga) (Books)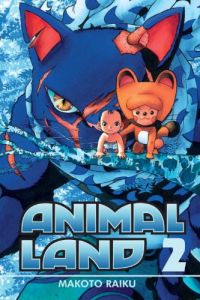 Manufacturer: Kodansha Comics
Item Code: 1935429140
UPC: 9781935429142
Author: Makoto Raiku
S.R.P.: $10.99
Request this item from your local retailer!

Orphaned after her parents were killed by Lynxes, Monoko is the only tanuki (raccoon dog) in her village without a family, until she finds a human baby in a river. In Animal Land, a world inhabited solely by animals, this human child is a mystery. This baby is Monoko's only chance at having a family and she is determined to raise the human child as her own. Animal Land is a quirky story about Monoko and the mysterious human baby.
Tracks