NOTICE
Convention Schedule
| | |
| --- | --- |
| July 18-22, 2018 | AAA Anime Inc. will be attending the international San Diego Comic Con Booth# 4319. |
Your Lie in April Novel (Books)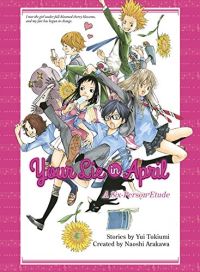 Manufacturer: Kodansha Comics
Item Code: 1945054263
UPC: 9781945054266
Author: Naoshi Arakawa
S.R.P.: $10.95
Request this item from your local retailer!

The Your Lie in April novel completes the Your Lie franchise by revealing the lives of the cast from perspectives that are rarely seen in the comic or animated tv series. The Sextet's Etude looks at each of the six characters' lives individually from the view point of one of their classmates providing an intimate look similar to what a fan would experience. A must read for fans of this beloved series.

Kosei Arima was a piano prodigy until his cruel taskmaster of a mother died suddenly, changing his life forever. Driven by his pain to abandon piano, Kosei now lives in a monotonous, colorless world. Having resigned himself to a bland life, he is surprised when he meets Kaori Miyazono, a violinist with an unorthodox style. Can she bring Kosei back to music, and back to life?