NOTICE
Holiday Schedule
| | |
| --- | --- |
| Nov. 22, 2018 | AAA Anime Inc. will be CLOSED on Thursday in observance of Thanksgiving. |
| Dec. 24, 2018 | AAA Anime Inc. will be CLOSED on Monday for Christmas Eve. |
| Dec. 25, 2018 | AAA Anime Inc. will be CLOSED on Tuesday in observance of Christmas. |
| Jan. 1, 2019 | AAA Anime Inc. will be CLOSED on Tuesday in observance of New Years Day. |
| Dec. 31, 2018 | AAA Anime Inc. will be open for a half day. No outbound shipments are scheduled that day. |
| UPS Holiday Schedule Notes | UPS Guarantee is suspended for all UPS Ground shipments picked up or scheduled for delivery Nov. 26–Dec. 24. |
Flowers of Evil Complete Vol. 1 (Manga) (Books)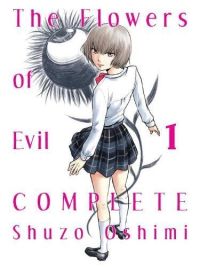 Restocked!: 12/6/2018
Manufacturer: Vertical Inc.
Item Code: 1945054719
UPC: 9781945054716
Author: Oshimi Shuzo
S.R.P.: $22.95
Request this item from your local retailer!

The first combined edition of The Flowers of Evil features volumes 1-3 of this best-selling and acclaimed series. It follows the adventures of a lonely bookish teen struggling to find his identity through Beaudelaire's poetry, until two girls - a beauty and a bully - help him find true love and friendship. Edgy, intense, and romantic, The Flowers of Evil has been a reader favorite. This new edition will give fans a chance to reconnect with Kasuga, Saeki, and Nakamura as it explores the issues of bulling, loneliness, individualtiy, and identity.

Volume 1: The routine of class and endless stupidity in a provincial town is taking a toll on middle-schooler Takao Kasuga. Though he gets along well enough with his peers, they'll never begin to dig any of that reading business that's his only true escape. What can he expect when he's in love with foreign stuff like the poems of Charles Baudelaire?
Yet his life threatens to take a turn for the worse when, in a moment of weakness, he finds and takes home the gym clothes of pretty, sweet, and smart Nanaka Saeki on whom he has a major crush. Witness to the theft is the oddest girl in class, who seems to consider the whole world a pile of excrement and to nurse a terribly sadistic streak....

Vol. 2: In this second installment, a surreal triangle begins to form between bookworm Kasuga and two girls from his middle-school class: model student Saeki and reject extraordinaire Nakamura. Having stolen Saeki's gym clothes on a whim, Kasuga is forced by Nakamura, sole witness to the theft, to secretly wear them on a date with none other than their rightful owner.

Vol 3: A whorl of the perverse generated by the reject and the bookworm threatens to lure in the class prima donna in this enchanting installment.