Queen's Blade: Season 1 & 2 Complete Collection (DVD Box Set) (DVDs)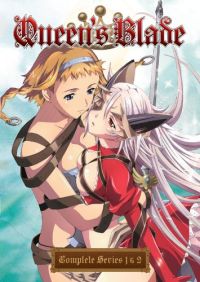 Manufacturer: Media Blasters
Item Code: AWSDVD1222
UPC: 631595122275
S.R.P.: $74.95
Request this item from your local retailer!

In four years' time, the competition to decide the next Queen will start. The strongest warrior will continue to rule and expand the country according to tradition. The contestants must be older than 12 years, and need not be intelligent ... or even human. And the rules for the tournament are simple: Murder Is Allowed.
"Queen's Blade: Spiral Chaos" game was released for the PlayStation Portable in 2009. Additionally, Queen's Blade is supported by a series of comic books, card collection, figures, statues, and a mobile phone game.
Includes the entire first & second seasons, which began airing in 2009 on AT-X, Chiba, Sun and Tokyo MX TV.
Tracks