NOTICE
Holiday Schedule
| | |
| --- | --- |
| Nov. 23, 2017 | AAA Anime Inc. will be CLOSED on Thursday in observance of Thanksgiving. |
| Dec. 25, 2017 | AAA Anime Inc. will be CLOSED on Monday in observance of Christmas. |
| Jan. 1, 2017 | AAA Anime Inc. will be CLOSED on Monday in observance of New Years Day. |
Afro Samurai: Spike Version (DVD) (DVDs)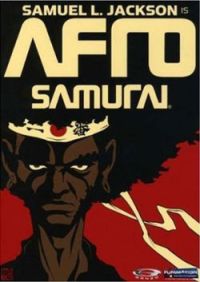 Manufacturer: FUNimation
Item Code: FN07982
UPC: 704400079825
Trailer: Hosted by FUNimation
S.R.P.: $9.98
Request this item from your local retailer!

Afro Samurai (played by Academy Award nominated Samuel L Jackson) is an epic tale of a black samurai's hunt for Justice (Ron Pearlman: Hellboy, Alien 3) who murdered his father. Composed by famed artist RZA (Kill Bill, Wu Tang Clan) Afro Samurai blends traditional Japanese culture, funky technology and hip hop to create a brutally fresh entertainment experience.
Tracks