Key Chain: Final Fantasy Brigade - Tidus (FFX) (Key Chains)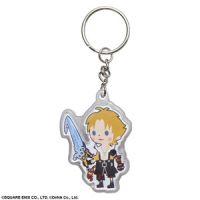 Manufacturer: Square-Enix
Item Code: 662248813660
UPC: 662248813660
S.R.P.: $5.99
Request this item from your local retailer!

From Square Enix! Mobile phone users entered the world of Square-Enix' Final Fantasy series with Final Fantasy Brigade for the iOS and Android platforms, and the characters from the game grace the danglers for a new line of clear keychains. Choose from Terra, Cloud, Zack, Vivi, Tidus, or Yuna. Each charm dangler is roughly 2" long, and it comes attached to a 2" chain and ring.
Tracks