NOTICE
Holiday Schedule
| | |
| --- | --- |
| July 4, 2018 | AAA Anime Inc. will be CLOSED on Wednesday in observance of Independence Day. |
Ichi: Movie (Blu-Ray) (Blu-Ray)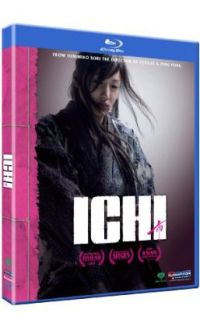 Manufacturer: FUNimation
Item Code: FN09897
UPC: 704400098970
Trailer: Hosted by FUNimation
S.R.P.: $19.98
Request this item from your local retailer!

Haruka Ayase is the titular Ichi, a beautiful young blind girl eking out a living by traveling the country as an itinerant musician. But while she may be beautiful and she may be blind you should never make the mistake of assuming that Ichi is weak. You see, a blind traveling masseur visited Ichi regularly throughout her childhood, training her up in a unique style of one handed swordfighting, employing a lethal blade embedded inside her cane. Though he is never called by name in the film that man is very clearly the legendary Zatoichi - subject of more films and television shows than we can name- and the now-grown Ichi is roaming the country searching for her long-absent teacher, the man she believes may be her father.
Tracks