Haruhi Vol. 6 (Manga) (Books)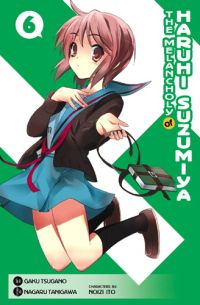 Manufacturer: Yen Press
Item Code: 0316089524
UPC: 9780316089524
Author: Nagaru Tanigawa, Noizi Ito, Gaku Tsugano
S.R.P.: $13.00
Request this item from your local retailer!

The school festival is right around the corner and Haruhi jumps at the chance to give the SOS Brigade more exposure. Swapping her Brigade Chief armband for a director's chair, Haruhi begins production on 'The Adventures of Mikuru Asahin' - written, directed and produced by her. Haruhi seems to be making it up as she goes along and Kyon's having trouble keeping up with her when he's burdened with all the film equipment. Has Haruhi taken things too far this time?