Is It Wrong to Try to Pick Up Girls in a Dungeon? Novel Vol. 5 (Books)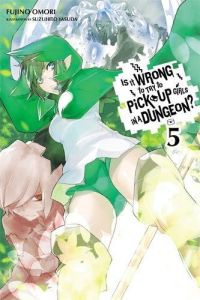 Restocked!: 4/16/2018
Manufacturer: Yen Press
Item Code: 031631479X
UPC: 9780316314794
Author: Suzuhito Yasuda
S.R.P.: $14.00
Request this item from your local retailer!

Bell, along with his adventuring party of Welf the swordsmith and Lilly the supporter, has made it into the middle floors of the Dungeon, but the schemes of another party have stranded them there! Hestia's going to need to send help, but will the rescuers arrive in time to save Bell and his friends from the monster that's got them cornered? The familia myth of the boy and the goddess continues!