NOTICE
Holiday Schedule
| | |
| --- | --- |
| July 4, 2018 | AAA Anime Inc. will be CLOSED on Wednesday in observance of Independence Day. |
Is It Wrong to Try to Pick Up Girls in a Dungeon? Novel Vol. 2 (Books)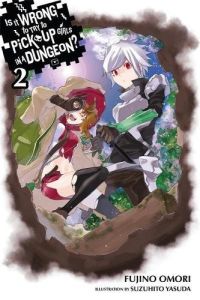 Manufacturer: Yen Press
Item Code: 0316340146
UPC: 9780316340144
Author: Suzuhito Yasuda
S.R.P.: $14.00
Request this item from your local retailer!

A would-be hero turns damsel in distress in this hilarious send up of sword and sorcery tropes!


"Nice to meet ya, white-haired mister!" When someone calls out to Bell with these words, he discovers that the voice belongs to a small girl, who introduces herself as Lily, a supporter. Somewhat goaded into teaming up with her despite the many doubts running through his head, Bell has a successful turn in Dungeon with his new companion. Though their alliance is short lived, the negative rumors swirling about the guild to which Lily belongs, the Soma Famiglia, are anything but. And then there's the ale they sell, said to steal the hearts of all who drink it--!?