NOTICE
Holiday Schedule
| | |
| --- | --- |
| July 4, 2018 | AAA Anime Inc. will be CLOSED on Wednesday in observance of Independence Day. |
Is It Wrong to Try to Pick Up Girls in a Dungeon? Novel Vol. 6 (Books)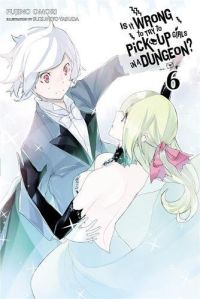 Manufacturer: Yen Press
Item Code: 0316394165
UPC: 9780316394161
Author: Suzuhito Yasuda
S.R.P.: $14.00
Request this item from your local retailer!

A would-be hero turns damsel in distress in this hilarious send up of sword and sorcery tropes!

"Hestia, I challenge you to a War Game!"
"What's with you, Apollo?"

A War Game--an all-out proxy war between gods, and the winner takes all. But what is it that Apollo wants? Hestia's beloved Bell Cranell, of course! With a week to go until the Game, things are bleak enough, but then Lilly is kidnapped by the Soma Familia. The outlook isn't good , but Bell has made many friends through his adventures, and they won't stand idly by. The familia myth continues!