Is It Wrong to Try to Pick Up Girls in a Dungeon? Vol. 6 (Manga) (Books)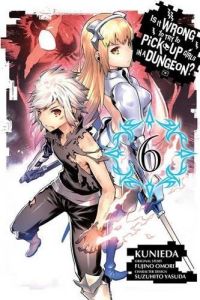 Restocked!: 4/16/2018
Manufacturer: Yen Press
Item Code: 0316552607
UPC: 9780316552608
Author: Fujino Omori
S.R.P.: $13.00
Request this item from your local retailer!

In this manga adaptation of the farcical fantasy light novels, a hapless young lad tries to find love and fortune alike in the gigantic, monster-ridden dungeons beneath the city of Orario.

Bell finally reaches the 11th level of the Dungeon to face his fated opponent--the monster responsible for his humiliation, the Minotaur. The memories of his flight and his failure assault him even as he confronts the deadly beast. Will the heroic drive that Aiz Wallenstein inspired within him be enough to defeat the Minotaur? Maybe, maybe not, but either way he's going to need some help from a new friend...