NOTICE
Novel Corona 2020
| | |
| --- | --- |
| Nov. 26, 2020 | AAA Anime Inc. will be CLOSED on Thursday in observance of Thanksgiving. |
| Dec. 24-25, 2020 | AAA Anime Inc. will be CLOSED on Thursday and Friday in observance of Christmas Eve and Christmas Day. |
| Jan. 1st, 2021 | AAA Anime Inc. will be CLOSED on Friday in observance of New Years Day. |
| UPS Holiday Schedule Notes | UPS Guarantee is suspended for all UPS Ground shipments picked up or scheduled for delivery Nov. 29 - Dec. 24. |
Bleach Vol. 10 (Manga) (Books)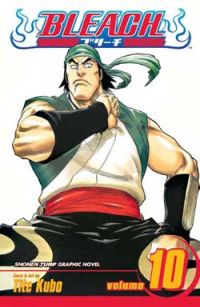 Manufacturer: Viz
Item Code: 1421500817
UPC: 9781421500812
Author: Tite Kubo
S.R.P.: $9.99
Request this item from your local retailer!

With the help of K?kaku a one-armed explosives expert and old friend of the mysterious talking cat Mr. Yoruichi Ichigo and crew are one step closer to infiltrating the Soul Society and rescuing their friend Rukia before she is executed. For K?kaku's plan to work, Ichigo must control his enormous reservoir of spiritual energy and there's no telling how much collateral damage this will cause. Meanwhile, the Soul Society hasn't been twiddling their collective thumbs, and quickly dispatches a delegation of captains to give the unwanted visitors the rudest of welcomings imaginable.
BLEACH © 2001 by Tite Kubo/SHUEISHA Inc.
Tracks
Other products for "Bleach" in "Books"

Bleach Omnibus Vol. 1 (Manga)

Bleach Omnibus Vol. 2 (Manga)

Bleach Omnibus Vol. 3 (Manga)

Bleach Omnibus Vol. 4 (Manga)

Bleach Omnibus Vol. 5 (Manga)

Bleach Omnibus Vol. 6 (Manga)

Bleach Omnibus Vol. 7 (Manga)

Bleach Omnibus Vol. 8 (Manga)

Bleach Omnibus Vol. 9 (Manga)

Bleach Omnibus Vol. 10 (Manga)

Bleach Omnibus Vol. 11 (Manga)

Bleach Omnibus Vol. 12 (Manga)

Bleach Omnibus Vol. 13 (Manga)

Bleach Omnibus Vol. 14 (Manga)

Bleach Omnibus Vol. 15 (Manga) (Vol. 43, 44 & 45)

Bleach Omnibus Vol. 16 (Manga) (Vol. 46, 47 & 48)

Bleach Omnibus Vol. 17 (Manga) (Vol. 49, 50 & 51)

Bleach Omnibus Vol. 18 (Manga) (Vol. 52, 53 & 54)

Bleach Omnibus Vol. 19 (Manga) (Vol. 55, 56 & 57)

Bleach Omnibus Vol. 20 (Manga) (Vol. 58, 59 & 60)

Bleach Omnibus Vol. 21 (Manga) (Vol. 61, 62 & 63)

Bleach Omnibus Vol. 22 (Manga) (Vol. 64, 65 & 66)

Bleach Omnibus Vol. 23 (Manga) (Vol. 67, 68 & 69)

Bleach Omnibus Vol. 24 (Manga) (Vol. 70, 71 & 72)

Bleach Omnibus Vol. 25 (Manga) (Vol. 73 & 74)

Bleach Vol. 1 (Manga)

Bleach Vol. 2 (Manga)

Bleach Vol. 3 (Manga)

Bleach Vol. 4 (Manga)

Bleach Vol. 5 (Manga)

Bleach Vol. 6 (Manga)

Bleach Vol. 7 (Manga)

Bleach Vol. 8 (Manga)

Bleach Vol. 9 (Manga)

Bleach Vol. 11 (Manga)

Bleach Vol. 12 (Manga)

Bleach Vol. 13 (Manga)

Bleach Vol. 14 (Manga)

Bleach Vol. 15 (Manga)

Bleach Vol. 16 (Manga)

Bleach Vol. 17 (Manga)

Bleach Vol. 18 (Manga)

Bleach Vol. 19 (Manga)

Bleach Vol. 20 (Manga)

Bleach Vol. 21 (Manga)

Bleach Vol. 22 (Manga)

Bleach Vol. 23 (Manga)

Bleach Vol. 24 (Manga)

Bleach Vol. 25 (Manga)

Bleach Vol. 26 (Manga)

Bleach Vol. 27 (Manga)

Bleach Vol. 28 (Manga)

Bleach Vol. 29 (Manga)

Bleach Vol. 30 (Manga)

Bleach Vol. 31 (Manga)

Bleach Vol. 32 (Manga)

Bleach Vol. 33 (Manga)

Bleach Vol. 34 (Manga)

Bleach Vol. 35 (Manga)

Bleach Vol. 36 (Manga)

Bleach Vol. 37 (Manga)

Bleach Vol. 38 (Manga)

Bleach Vol. 39 (Manga)

Bleach Vol. 40 (Manga)

Bleach Vol. 41 (Manga)

Bleach Vol. 42 (Manga)

Bleach Vol. 43 (Manga)

Bleach Vol. 44 (Manga)

Bleach Vol. 45 (Manga)

Bleach Vol. 46 (Manga)

Bleach Vol. 47 (Manga)

Bleach Vol. 48 (Manga)

Bleach Vol. 49 (Manga)

Bleach Vol. 50 (Manga)

Bleach Vol. 51 (Manga)

Bleach Vol. 52 (Manga)

Bleach Vol. 53 (Manga)

Bleach Vol. 54 (Manga)

Bleach Vol. 55 (Manga)

Bleach Vol. 56 (Manga)

Bleach Vol. 57 (Manga)

Bleach Vol. 58 (Manga)

Bleach Vol. 59 (Manga)

Bleach Vol. 60 (Manga)

Bleach Vol. 61 (Manga)

Bleach Vol. 62 (Manga)

Bleach Vol. 63 (Manga)

Bleach Vol. 64 (Manga)

Bleach Vol. 65 (Manga)

Bleach Vol. 66 (Manga)

Bleach Vol. 67 (Manga)

Bleach Vol. 68 (Manga)

Bleach Vol. 69 (Manga)

Bleach Vol. 70 (Manga)

Bleach Vol. 71 (Manga)

Bleach Vol. 72 (Manga)

Bleach Vol. 73 (Manga)

Bleach Vol. 74 (Manga)

Bleach: Can't Fear Your Own World Novel Vol. 1

Bleach: Can't Fear Your Own World Novel Vol. 2

Bleach: Collection 2 Volumes 22-48 (Manga Box Set) w/ Premium