Bleach Vol. 12 (Manga) (Books)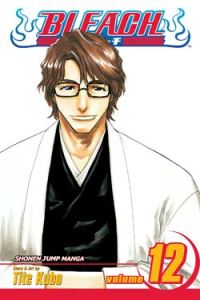 Manufacturer: Viz
Item Code: 1421504030
UPC: 9781421504032
Author: Tite Kubo
S.R.P.: $9.99
Request this item from your local retailer!

With reports of powerful intruders defeating a number of assistant captains, the inner sanctum of the Soul Society - the Seireitei, the home of the Soul Reapers - is put on a state of high alert. Matters are further compounded by the mysterious death of a prominent captain. Is his death a cover-up to prevent a valuable secret from being exposed?
BLEACH © 2001 by Tite Kubo/SHUEISHA Inc.
Tracks
Other products for "Bleach" in "Books"

Bleach Omnibus Vol. 1 (Manga)

Bleach Omnibus Vol. 2 (Manga)

Bleach Omnibus Vol. 3 (Manga)

Bleach Omnibus Vol. 4 (Manga)

Bleach Omnibus Vol. 5 (Manga)

Bleach Omnibus Vol. 6 (Manga)

Bleach Omnibus Vol. 7 (Manga)

Bleach Omnibus Vol. 8 (Manga)

Bleach Omnibus Vol. 9 (Manga)

Bleach Omnibus Vol. 10 (Manga)

Bleach Omnibus Vol. 11 (Manga)

Bleach Omnibus Vol. 12 (Manga)

Bleach Omnibus Vol. 13 (Manga)

Bleach Omnibus Vol. 14 (Manga)

Bleach Omnibus Vol. 15 (Manga) (Vol. 43, 44 & 45)

Bleach Omnibus Vol. 16 (Manga) (Vol. 46, 47 & 48)

Bleach Omnibus Vol. 17 (Manga) (Vol. 49, 50 & 51)

Bleach Omnibus Vol. 18 (Manga) (Vol. 52, 53 & 54)

Bleach Omnibus Vol. 19 (Manga) (Vol. 55, 56 & 57)

Bleach Omnibus Vol. 20 (Manga) (Vol. 58, 59 & 60)

Bleach Omnibus Vol. 21 (Manga) (Vol. 61, 62 & 63)

Bleach Omnibus Vol. 22 (Manga) (Vol. 64, 65 & 66)

Bleach Omnibus Vol. 23 (Manga) (Vol. 67, 68 & 69)

Bleach Omnibus Vol. 24 (Manga) (Vol. 70, 71 & 72)

Bleach Omnibus Vol. 25 (Manga) (Vol. 73 & 74)

Bleach Vol. 1 (Manga)

Bleach Vol. 2 (Manga)

Bleach Vol. 3 (Manga)

Bleach Vol. 4 (Manga)

Bleach Vol. 5 (Manga)

Bleach Vol. 6 (Manga)

Bleach Vol. 7 (Manga)

Bleach Vol. 8 (Manga)

Bleach Vol. 9 (Manga)

Bleach Vol. 10 (Manga)

Bleach Vol. 11 (Manga)

Bleach Vol. 13 (Manga)

Bleach Vol. 14 (Manga)

Bleach Vol. 15 (Manga)

Bleach Vol. 16 (Manga)

Bleach Vol. 17 (Manga)

Bleach Vol. 18 (Manga)

Bleach Vol. 19 (Manga)

Bleach Vol. 20 (Manga)

Bleach Vol. 21 (Manga)

Bleach Vol. 22 (Manga)

Bleach Vol. 23 (Manga)

Bleach Vol. 24 (Manga)

Bleach Vol. 25 (Manga)

Bleach Vol. 26 (Manga)

Bleach Vol. 27 (Manga)

Bleach Vol. 28 (Manga)

Bleach Vol. 29 (Manga)

Bleach Vol. 30 (Manga)

Bleach Vol. 31 (Manga)

Bleach Vol. 32 (Manga)

Bleach Vol. 33 (Manga)

Bleach Vol. 34 (Manga)

Bleach Vol. 35 (Manga)

Bleach Vol. 36 (Manga)

Bleach Vol. 37 (Manga)

Bleach Vol. 38 (Manga)

Bleach Vol. 39 (Manga)

Bleach Vol. 40 (Manga)

Bleach Vol. 41 (Manga)

Bleach Vol. 42 (Manga)

Bleach Vol. 43 (Manga)

Bleach Vol. 44 (Manga)

Bleach Vol. 45 (Manga)

Bleach Vol. 46 (Manga)

Bleach Vol. 47 (Manga)

Bleach Vol. 48 (Manga)

Bleach Vol. 49 (Manga)

Bleach Vol. 50 (Manga)

Bleach Vol. 51 (Manga)

Bleach Vol. 52 (Manga)

Bleach Vol. 53 (Manga)

Bleach Vol. 54 (Manga)

Bleach Vol. 55 (Manga)

Bleach Vol. 56 (Manga)

Bleach Vol. 57 (Manga)

Bleach Vol. 58 (Manga)

Bleach Vol. 59 (Manga)

Bleach Vol. 60 (Manga)

Bleach Vol. 61 (Manga)

Bleach Vol. 62 (Manga)

Bleach Vol. 63 (Manga)

Bleach Vol. 64 (Manga)

Bleach Vol. 65 (Manga)

Bleach Vol. 66 (Manga)

Bleach Vol. 67 (Manga)

Bleach Vol. 68 (Manga)

Bleach Vol. 69 (Manga)

Bleach Vol. 70 (Manga)

Bleach Vol. 71 (Manga)

Bleach Vol. 72 (Manga)

Bleach Vol. 73 (Manga)

Bleach Vol. 74 (Manga)

Bleach: Can't Fear Your Own World Novel Vol. 1

Bleach: Can't Fear Your Own World Novel Vol. 2

Bleach: Collection 2 Volumes 22-48 (Manga Box Set) w/ Premium