One Piece Vol. 10: Ok, Let's Stand Up! (Manga) (Books)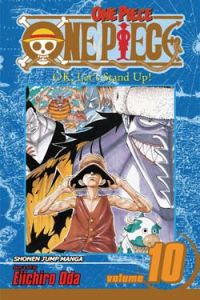 Manufacturer: Viz
Item Code: 1421504065
UPC: 9781421504063
Author: Eiichiro Oda
S.R.P.: $9.99
Request this item from your local retailer!

Luffy's navigator, Nami, has been double-crossing "Saw-Tooth" Arlong to steal enough treasure to buy back her village. In return, the pirate has handed over her fortune to the Navy! Now Luffy and his crew prepare to risk their lives for Nami's sake against their most ruthless opponent yet.
ONE PIECE ©1997 by Eiichiro Oda/SHUEISHA Inc.
Tracks