NOTICE
May 27, 2019
AAA Anime Inc. will be CLOSED on Monder in observance of Memorial Day.
July 4, 2019
AAA Anime Inc. will be CLOSED on Thursday for Fourth of July.
Bleach Vol. 13 (Manga) (Books)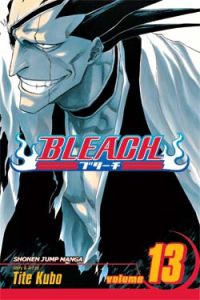 Manufacturer: Viz
Item Code: 1421506114
UPC: 9781421506111
Genre: N/A
Author: Kubo, Tite
S.R.P.: $9.99
Request this item from your local retailer!

Chad has stormed his way into the heart of the Soul Society, the Seireitei, only to meet his match in the devastatingly efficient Captain Kyouraku. Meanwhile, Ichigo struggles in his battle against Kenpachi Zaraki, the captain of the 11th company. Although Ichigo succeeds in drawing blood, the secret of Kenpachi's zanpaku-tou may be his undoing. Before Ichigo realizes it, Kenpachi's blade has pierced his heart!

BLEACH © 2001 by Tite Kubo/SHUEISHA Inc.
Tracks
Other products for "Bleach" in "Books"

Art Book: Bleach - All Colour But The Black

Art Book: Bleach - Character Profiles 1 Souls

Art Book: Bleach - Character Profiles 2 Masked

Bleach Omnibus Vol. 1 (Manga)

Bleach Omnibus Vol. 2 (Manga)

Bleach Omnibus Vol. 3 (Manga)

Bleach Omnibus Vol. 4 (Manga)

Bleach Omnibus Vol. 5 (Manga)

Bleach Omnibus Vol. 6 (Manga)

Bleach Omnibus Vol. 7 (Manga)

Bleach Omnibus Vol. 8 (Manga)

Bleach Omnibus Vol. 9 (Manga)

Bleach Omnibus Vol. 10 (Manga)

Bleach Omnibus Vol. 11 (Manga)

Bleach Omnibus Vol. 12 (Manga)

Bleach Omnibus Vol. 13 (Manga)

Bleach Omnibus Vol. 14 (Manga)

Bleach Omnibus Vol. 15 (Manga) (Vol. 43, 44 & 45)

Bleach Omnibus Vol. 16 (Manga) (Vol. 46, 47 & 48)

Bleach Omnibus Vol. 17 (Manga) (Vol. 49, 50 & 51)

Bleach Omnibus Vol. 18 (Manga) (Vol. 52, 53 & 54)

Bleach Omnibus Vol. 19 (Manga) (Vol. 55, 56 & 57)

Bleach Omnibus Vol. 20 (Manga) (Vol. 58, 59 & 60)

Bleach Omnibus Vol. 21 (Manga) (Vol. 61, 62 & 63)

Bleach Omnibus Vol. 22 (Manga) (Vol. 64, 65 & 66)

Bleach Omnibus Vol. 23 (Manga) (Vol. 67, 68 & 69)

Bleach Omnibus Vol. 24 (Manga) (Vol. 70, 71 & 72)

Bleach Omnibus Vol. 25 (Manga) (Vol. 73 & 74)

Bleach Vol. 1 (Manga)

Bleach Vol. 2 (Manga)

Bleach Vol. 3 (Manga)

Bleach Vol. 4 (Manga)

Bleach Vol. 5 (Manga)

Bleach Vol. 6 (Manga)

Bleach Vol. 7 (Manga)

Bleach Vol. 8 (Manga)

Bleach Vol. 9 (Manga)

Bleach Vol. 10 (Manga)

Bleach Vol. 11 (Manga)

Bleach Vol. 12 (Manga)

Bleach Vol. 14 (Manga)

Bleach Vol. 15 (Manga)

Bleach Vol. 16 (Manga)

Bleach Vol. 17 (Manga)

Bleach Vol. 18 (Manga)

Bleach Vol. 19 (Manga)

Bleach Vol. 20 (Manga)

Bleach Vol. 21 (Manga)

Bleach Vol. 22 (Manga)

Bleach Vol. 23 (Manga)

Bleach Vol. 24 (Manga)

Bleach Vol. 25 (Manga)

Bleach Vol. 26 (Manga)

Bleach Vol. 27 (Manga)

Bleach Vol. 28 (Manga)

Bleach Vol. 29 (Manga)

Bleach Vol. 30 (Manga)

Bleach Vol. 31 (Manga)

Bleach Vol. 32 (Manga)

Bleach Vol. 33 (Manga)

Bleach Vol. 34 (Manga)

Bleach Vol. 35 (Manga)

Bleach Vol. 36 (Manga)

Bleach Vol. 37 (Manga)

Bleach Vol. 38 (Manga)

Bleach Vol. 39 (Manga)

Bleach Vol. 40 (Manga)

Bleach Vol. 41 (Manga)

Bleach Vol. 42 (Manga)

Bleach Vol. 43 (Manga)

Bleach Vol. 44 (Manga)

Bleach Vol. 45 (Manga)

Bleach Vol. 46 (Manga)

Bleach Vol. 47 (Manga)

Bleach Vol. 48 (Manga)

Bleach Vol. 49 (Manga)

Bleach Vol. 50 (Manga)

Bleach Vol. 51 (Manga)

Bleach Vol. 52 (Manga)

Bleach Vol. 53 (Manga)

Bleach Vol. 54 (Manga)

Bleach Vol. 55 (Manga)

Bleach Vol. 56 (Manga)

Bleach Vol. 57 (Manga)

Bleach Vol. 58 (Manga)

Bleach Vol. 59 (Manga)

Bleach Vol. 60 (Manga)

Bleach Vol. 61 (Manga)

Bleach Vol. 62 (Manga)

Bleach Vol. 63 (Manga)

Bleach Vol. 64 (Manga)

Bleach Vol. 65 (Manga)

Bleach Vol. 66 (Manga)

Bleach Vol. 67 (Manga)

Bleach Vol. 68 (Manga)

Bleach Vol. 69 (Manga)

Bleach Vol. 70 (Manga)

Bleach Vol. 71 (Manga)

Bleach Vol. 72 (Manga)

Bleach Vol. 73 (Manga)

Bleach Vol. 74 (Manga)

Bleach: Collection 1 Volumes 1-21 (Manga Box Set)

Bleach: Collection 2 Volumes 22-48 (Manga Box Set) w/ Premium

Bleach: Collection 3 Volumes 49-74 (Manga Box Set) w/ Premium

Bleach: Color Bleach+ Official Bootleg Guide (Manga)