One Piece Vol. 11: The Meanest Man in the East (Manga) (Books)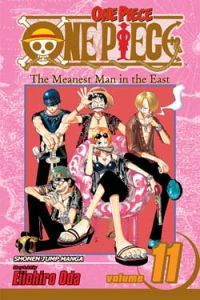 Manufacturer: Viz
Item Code: 1421506637
UPC: 9781421506630
Genre: N/A
Author: Oda, Eiichiro
S.R.P.: $9.99
Request this item from your local retailer!

After almost drowning at the hands of "Sawtooth" Arlong, captain of the nasty Fish-Man pirates, Luffy bounces back with a few tricks up his sleeve. The fate of Coco Village, if not the rest of the East Blue, rests upon the outcome of their final battle!

ONE PIECE ©1997 by Eiichiro Oda/SHUEISHA Inc.
Tracks