FullMetal Alchemist Vol. 12 (Manga) (Books)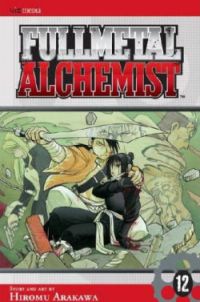 Manufacturer: Viz
Item Code: 1421508397
UPC: 9781421508399
Genre: Action/Drama
Author: Hiromu Arakawa
S.R.P.: $9.99
Request this item from your local retailer!

FULLMETAL ALCHEMIST © Hiromu Arakawa, Makato Inoue/SQUARE ENIX

The hunters become the hunted when the Elric brothers and Prince Lin set a trap for the homunculus with the insatiable appetite: Gluttony! On another front, state politics are shaken up when a horrifying truth about Fuhrer President King Bradley is revealed - and Colonel Roy Mustang is right there to capitalize on the situation.
Tracks