Naruto Vol. 16 (Manga) (Books)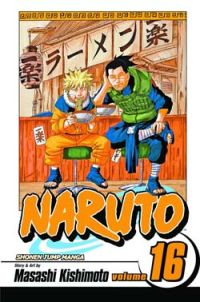 Manufacturer: Viz
Item Code: 1421510901
UPC: 9781421510903
Genre: Action
Author: Masashi Kishimoto
S.R.P.: $9.99
Request this item from your local retailer!



NARUTO © 1999 by Masashi Kishimoto/SHUEISHA Inc.
Death in the village! When the dust settles from Orochimaru's attack, the shinobi find that not everyone has survived. While the ninja mourn, an unlikely candidate is chosen for greatness, a long-lost ninja returns with a dangerous entourage, and Naruto finds his life in more turmoil than ever before.
Tracks