One Piece Vol. 15: Straight Ahead!!! (Manga) (Books)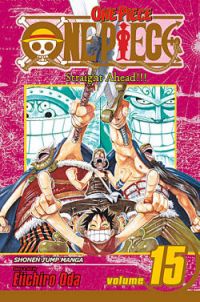 Manufacturer: Viz
Item Code: 1421510928
UPC: 9781421510927
Genre: N/A
Author: Oda, Eiichiro
S.R.P.: $9.99
Request this item from your local retailer!

ONE PIECE ©1997 by Eiichiro Oda/SHUEISHA Inc.


Nami's sick! Now the Merry Go is without her navigator! Luffy and crew have one choice―find land and hopefully a doctor. They stumble upon Drum Island where it is eternally winter, but upon arriving they find out the island has only one doctor―and she's a witch! With Nami's life on the line, Luffy sets out through the snow-laden fields to find this doctor, witch or not!
Tracks