One Piece Vol. 16: Carrying On His Will (Manga) (Books)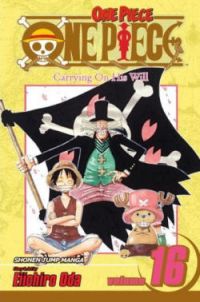 Manufacturer: Viz
Item Code: 1421510936
UPC: 9781421510934
Genre: N/A
Author: Oda, Eiichiro
S.R.P.: $9.99
Request this item from your local retailer!

ONE PIECE ©1997 by Eiichiro Oda/SHUEISHA Inc.


Avalanche! Luffy and Sanji surf a tree down a mountain on a fast-moving wave of snow and just avoid being buried alive. But then the demented King Wapol suddenly appears and orders Luffy and Sanji's deaths. With no time to lose, Luffy evades their attacks. Then, out of the blue, an unlikely friend comes to his rescue! A friend who was just trying to kill him only hours before!
Tracks