Naruto Vol. 18 (Manga) (Books)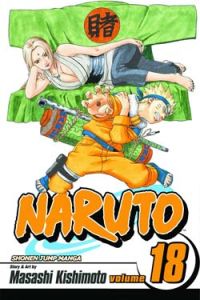 Manufacturer: Viz
Item Code: 1421516535
UPC: 9781421516530
Genre: Action
Author: Masashi Kishimoto
S.R.P.: $9.99
Request this item from your local retailer!

Naruto's training with Jiraiya intensifies, while Orochimaru uses threats to coerce a legendary kunoichi into helping him. But will her tragic past play a part in destroying Naruto's future?

NARUTO © 1999 by Masashi Kishimoto/SHUEISHA Inc.
Tracks
Other products for "Naruto" in "Books"

Naruto Vol. 1 (Manga)

Naruto Vol. 2 (Manga)

Naruto Vol. 3 (Manga)

Naruto Vol. 4 (Manga)

Naruto Vol. 5 (Manga)

Naruto Vol. 6 (Manga)

Naruto Vol. 7 (Manga)

Naruto Vol. 8 (Manga)

Naruto Vol. 9 (Manga)

Naruto Vol. 10 (Manga)

Naruto Vol. 11 (Manga)

Naruto Vol. 12 (Manga)

Naruto Vol. 13 (Manga)

Naruto Vol. 14 (Manga)

Naruto Vol. 15 (Manga)

Naruto Vol. 16 (Manga)

Naruto Vol. 17 (Manga)

Naruto Vol. 19 (Manga)

Naruto Vol. 20 (Manga)

Naruto Vol. 21 (Manga)

Naruto Vol. 22 (Manga)

Naruto Vol. 23 (Manga)

Naruto Vol. 24 (Manga)

Naruto Vol. 25 (Manga)

Naruto Vol. 26 (Manga)

Naruto Vol. 27 (Manga)

Naruto Omnibus Vol. 1 (Manga)

Naruto Omnibus Vol. 2 (Manga)

Naruto Omnibus Vol. 3 (Manga)

Naruto Omnibus Vol. 4 (Manga)

Naruto Omnibus Vol. 5 (Manga)

Naruto Omnibus Vol. 6 (Manga)

Naruto Omnibus Vol. 7 (Manga)

Naruto Omnibus Vol. 8 (Manga)

Naruto Omnibus Vol. 9 (Manga)

Naruto Omnibus Vol. 10 (Manga)

Naruto Omnibus Vol. 11 (Manga)

Naruto Omnibus Vol. 12 (Manga)

Naruto Omnibus Vol. 13 (Manga)

Naruto Omnibus Vol. 14 (Manga) (40, 41, 42)

Naruto Omnibus Vol. 15 (Manga) (43, 44, 45)

Naruto Omnibus Vol. 16 (Manga) (46, 47, 48)

Naruto Omnibus Vol. 17 (Manga) (49, 50, 51)

Naruto Omnibus Vol. 18 (Manga) (52, 53, 54)

Naruto Omnibus Vol. 19 (Manga) (55, 56, 57)

Naruto Omnibus Vol. 20 (Manga) (58, 59, 60)

Naruto Omnibus Vol. 21 (Manga) (61, 62, 63)

Naruto Omnibus Vol. 22 (Manga) (64, 65, 66)

Naruto Omnibus Vol. 23 (Manga) (67, 68, 69)

Naruto Omnibus Vol. 24 (Manga) (70, 71, 72)

Naruto Shippuden Vol. 28 (Manga)

Naruto Shippuden Vol. 29 (Manga)

Naruto Shippuden Vol. 30 (Manga)

Naruto Shippuden Vol. 31 (Manga)

Naruto Shippuden Vol. 32 (Manga)

Naruto Shippuden Vol. 33 (Manga)

Naruto Shippuden Vol. 34 (Manga)

Naruto Shippuden Vol. 35 (Manga)

Naruto Shippuden Vol. 36 (Manga)

Naruto Shippuden Vol. 37 (Manga)

Naruto Shippuden Vol. 38 (Manga)

Naruto Shippuden Vol. 39 (Manga)

Naruto Shippuden Vol. 40 (Manga)

Naruto Shippuden Vol. 41 (Manga)

Naruto Shippuden Vol. 42 (Manga)

Naruto Shippuden Vol. 43 (Manga)

Naruto Shippuden Vol. 44 (Manga)

Naruto Shippuden Vol. 45 (Manga)

Naruto Shippuden Vol. 46 (Manga)

Naruto Shippuden Vol. 47 (Manga)

Naruto Shippuden Vol. 48 (Manga)

Naruto Shippuden Vol. 49 (Manga)

Naruto Shippuden Vol. 50 (Manga)

Naruto Shippuden Vol. 51 (Manga)

Naruto Shippuden Vol. 52 (Manga)

Naruto Shippuden Vol. 53 (Manga)

Naruto Shippuden Vol. 54 (Manga)

Naruto Shippuden Vol. 55 (Manga)

Naruto Shippuden Vol. 56 (Manga)

Naruto Shippuden Vol. 57 (Manga)

Naruto Shippuden Vol. 58 (Manga)

Naruto Shippuden Vol. 59 (Manga)

Naruto Shippuden Vol. 60 (Manga)

Naruto Shippuden Vol. 61 (Manga)

Naruto Shippuden Vol. 62 (Manga)

Naruto Shippuden Vol. 63 (Manga)

Naruto Shippuden Vol. 64 (Manga)

Naruto Shippuden Vol. 65 (Manga)

Naruto Shippuden Vol. 66 (Manga)

Naruto Shippuden Vol. 67 (Manga)

Naruto Shippuden Vol. 68 (Manga)

Naruto Shippuden Vol. 69 (Manga)

Naruto Shippuden Vol. 70 (Manga)

Naruto Shippuden Vol. 71 (Manga)

Naruto Shippuden Vol. 72 (Manga)

Naruto Shippuden: Itachi's Story Novel Vol. 1: Daylight

Naruto Shippuden: Itachi's Story Novel Vol. 2: Midnight

Naruto Shippuden: Kakashi's Story Novel

Naruto Shippuden: Naruto Story Novel

Naruto Shippuden: Sakura's Story Novel

Naruto Shippuden: Sasuke's Story Novel

Naruto: Chibi Sasuke's Sharingan Legend Vol. 1 (Manga)

Naruto: Chibi Sasuke's Sharingan Legend Vol. 2 (Manga)

Naruto: Chibi Sasuke's Sharingan Legend Vol. 3 (Manga)

Naruto: Sasuke's Story--Star Pupil (Manga)

Naruto: Shikamaru's Story Novel [Restocked!: 2/27/2021]

Naruto: Shikamaru's Story--Mourning Clouds (Manga) [New!: 2/27/2021]

Naruto: The Seventh Hokage and the Scarlet Spring (Manga)