NOTICE
Novel Corona 2020
| | |
| --- | --- |
| Nov. 26, 2020 | AAA Anime Inc. will be CLOSED on Thursday in observance of Thanksgiving. |
| Dec. 24-25, 2020 | AAA Anime Inc. will be CLOSED on Thursday and Friday in observance of Christmas Eve and Christmas Day. |
| Jan. 1st, 2021 | AAA Anime Inc. will be CLOSED on Friday in observance of New Years Day. |
| UPS Holiday Schedule Notes | UPS Guarantee is suspended for all UPS Ground shipments picked up or scheduled for delivery Nov. 29 - Dec. 24. |
Naruto Vol. 20 (Manga) (Books)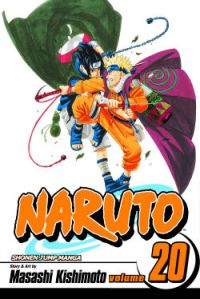 Manufacturer: Viz
Item Code: 1421516551
UPC: 9781421516554
Genre: Action
Author: Masashi Kishimoto
S.R.P.: $9.99
Request this item from your local retailer!

NARUTO © 1999 by Masashi Kishimoto/SHUEISHA Inc.

It's Naruto vs. Sasuke, with Sakura caught in between, as secrets are revealed, egos bruised, and some alliances strengthened while others are weakened. Naruto and Sasuke are no longer just boy ninja teammates, but young men hurtling toward their own separate destinies.
Tracks
Other products for "Naruto" in "Books"

Art Book: Uzumaki Naruto Illustrations

Naruto Vol. 1 (Manga)

Naruto Vol. 2 (Manga)

Naruto Vol. 3 (Manga)

Naruto Vol. 4 (Manga)

Naruto Vol. 5 (Manga)

Naruto Vol. 6 (Manga)

Naruto Vol. 7 (Manga)

Naruto Vol. 8 (Manga)

Naruto Vol. 9 (Manga)

Naruto Vol. 10 (Manga)

Naruto Vol. 11 (Manga)

Naruto Vol. 12 (Manga)

Naruto Vol. 13 (Manga)

Naruto Vol. 14 (Manga)

Naruto Vol. 15 (Manga)

Naruto Vol. 16 (Manga)

Naruto Vol. 17 (Manga)

Naruto Vol. 18 (Manga)

Naruto Vol. 19 (Manga)

Naruto Vol. 21 (Manga)

Naruto Vol. 22 (Manga)

Naruto Vol. 23 (Manga)

Naruto Vol. 24 (Manga)

Naruto Vol. 25 (Manga)

Naruto Vol. 26 (Manga)

Naruto Vol. 27 (Manga)

Naruto Omnibus Vol. 1 (Manga)

Naruto Omnibus Vol. 2 (Manga)

Naruto Omnibus Vol. 3 (Manga)

Naruto Omnibus Vol. 4 (Manga)

Naruto Omnibus Vol. 5 (Manga)

Naruto Omnibus Vol. 6 (Manga)

Naruto Omnibus Vol. 7 (Manga)

Naruto Omnibus Vol. 8 (Manga)

Naruto Omnibus Vol. 9 (Manga)

Naruto Omnibus Vol. 10 (Manga)

Naruto Omnibus Vol. 11 (Manga)

Naruto Omnibus Vol. 12 (Manga)

Naruto Omnibus Vol. 13 (Manga)

Naruto Omnibus Vol. 14 (Manga) (40, 41, 42)

Naruto Omnibus Vol. 15 (Manga) (43, 44, 45)

Naruto Omnibus Vol. 16 (Manga) (46, 47, 48)

Naruto Omnibus Vol. 17 (Manga) (49, 50, 51)

Naruto Omnibus Vol. 18 (Manga) (52, 53, 54)

Naruto Omnibus Vol. 19 (Manga) (55, 56, 57)

Naruto Omnibus Vol. 20 (Manga) (58, 59, 60)

Naruto Omnibus Vol. 21 (Manga) (61, 62, 63)

Naruto Omnibus Vol. 22 (Manga) (64, 65, 66)

Naruto Omnibus Vol. 23 (Manga) (67, 68, 69)

Naruto Omnibus Vol. 24 (Manga) (70, 71, 72)

Naruto Shippuden Vol. 28 (Manga)

Naruto Shippuden Vol. 29 (Manga)

Naruto Shippuden Vol. 30 (Manga)

Naruto Shippuden Vol. 31 (Manga)

Naruto Shippuden Vol. 32 (Manga)

Naruto Shippuden Vol. 33 (Manga)

Naruto Shippuden Vol. 34 (Manga)

Naruto Shippuden Vol. 35 (Manga)

Naruto Shippuden Vol. 36 (Manga)

Naruto Shippuden Vol. 37 (Manga)

Naruto Shippuden Vol. 38 (Manga)

Naruto Shippuden Vol. 39 (Manga)

Naruto Shippuden Vol. 40 (Manga)

Naruto Shippuden Vol. 41 (Manga)

Naruto Shippuden Vol. 42 (Manga)

Naruto Shippuden Vol. 43 (Manga)

Naruto Shippuden Vol. 44 (Manga)

Naruto Shippuden Vol. 45 (Manga)

Naruto Shippuden Vol. 46 (Manga)

Naruto Shippuden Vol. 47 (Manga)

Naruto Shippuden Vol. 48 (Manga)

Naruto Shippuden Vol. 49 (Manga)

Naruto Shippuden Vol. 50 (Manga)

Naruto Shippuden Vol. 51 (Manga)

Naruto Shippuden Vol. 52 (Manga)

Naruto Shippuden Vol. 53 (Manga)

Naruto Shippuden Vol. 54 (Manga)

Naruto Shippuden Vol. 55 (Manga)

Naruto Shippuden Vol. 56 (Manga)

Naruto Shippuden Vol. 57 (Manga)

Naruto Shippuden Vol. 58 (Manga)

Naruto Shippuden Vol. 59 (Manga)

Naruto Shippuden Vol. 60 (Manga)

Naruto Shippuden Vol. 61 (Manga)

Naruto Shippuden Vol. 62 (Manga)

Naruto Shippuden Vol. 63 (Manga)

Naruto Shippuden Vol. 64 (Manga)

Naruto Shippuden Vol. 65 (Manga)

Naruto Shippuden Vol. 66 (Manga)

Naruto Shippuden Vol. 67 (Manga)

Naruto Shippuden Vol. 68 (Manga)

Naruto Shippuden Vol. 69 (Manga)

Naruto Shippuden Vol. 70 (Manga)

Naruto Shippuden Vol. 71 (Manga)

Naruto Shippuden Vol. 72 (Manga)

Naruto Shippuden: Itachi's Story Novel Vol. 1: Daylight

Naruto Shippuden: Itachi's Story Novel Vol. 2: Midnight

Naruto Shippuden: Kakashi's Story Novel

Naruto Shippuden: Naruto Story Novel

Naruto Shippuden: Sakura's Story Novel

Naruto Shippuden: Sasuke's Story Novel

Naruto: Chibi Sasuke's Sharingan Legend Vol. 1 (Manga)

Naruto: Chibi Sasuke's Sharingan Legend Vol. 2 (Manga)

Naruto: Chibi Sasuke's Sharingan Legend Vol. 3 (Manga)

Naruto: Sasuke's Story--Star Pupil (Manga)

Naruto: Shikamaru's Story Novel

Naruto: Shikamaru's Story--Mourning Clouds (Manga) [Street Date: 2/2/2021]

Naruto: The Seventh Hokage and the Scarlet Spring (Manga)