Naruto Vol. 21 (Manga) (Books)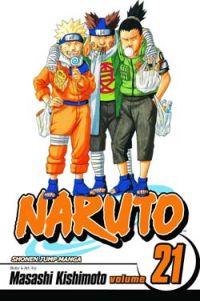 Manufacturer: Viz
Item Code: 1421518554
UPC: 9781421518558
Genre: Action
Author: Masashi Kishimoto
S.R.P.: $9.99
Request this item from your local retailer!

NARUTO © 1999 by Masashi Kishimoto/SHUEISHA Inc.

Tsunade sends a team to hunt down the conflicted Sasuke. Are Naruto, Neji and the others capable of beating the Sound Ninja Four, who already have Sasuke in their clutches? They have no choice but to find out!
Other products for "Naruto" in "Books"

Art Book: Uzumaki Naruto Illustrations

Naruto Vol. 1 (Manga)

Naruto Vol. 2 (Manga)

Naruto Vol. 3 (Manga)

Naruto Vol. 4 (Manga)

Naruto Vol. 5 (Manga)

Naruto Vol. 6 (Manga)

Naruto Vol. 7 (Manga)

Naruto Vol. 8 (Manga)

Naruto Vol. 9 (Manga)

Naruto Vol. 10 (Manga)

Naruto Vol. 11 (Manga)

Naruto Vol. 12 (Manga)

Naruto Vol. 13 (Manga) [Restocked!: 1/22/2021]

Naruto Vol. 14 (Manga)

Naruto Vol. 15 (Manga)

Naruto Vol. 16 (Manga)

Naruto Vol. 17 (Manga)

Naruto Vol. 18 (Manga)

Naruto Vol. 19 (Manga)

Naruto Vol. 20 (Manga)

Naruto Vol. 22 (Manga)

Naruto Vol. 23 (Manga)

Naruto Vol. 24 (Manga)

Naruto Vol. 25 (Manga)

Naruto Vol. 26 (Manga)

Naruto Vol. 27 (Manga)

Naruto Omnibus Vol. 1 (Manga)

Naruto Omnibus Vol. 2 (Manga)

Naruto Omnibus Vol. 3 (Manga)

Naruto Omnibus Vol. 4 (Manga)

Naruto Omnibus Vol. 5 (Manga)

Naruto Omnibus Vol. 6 (Manga)

Naruto Omnibus Vol. 7 (Manga)

Naruto Omnibus Vol. 8 (Manga)

Naruto Omnibus Vol. 9 (Manga)

Naruto Omnibus Vol. 10 (Manga)

Naruto Omnibus Vol. 11 (Manga)

Naruto Omnibus Vol. 12 (Manga)

Naruto Omnibus Vol. 13 (Manga)

Naruto Omnibus Vol. 14 (Manga) (40, 41, 42)

Naruto Omnibus Vol. 15 (Manga) (43, 44, 45)

Naruto Omnibus Vol. 16 (Manga) (46, 47, 48)

Naruto Omnibus Vol. 17 (Manga) (49, 50, 51)

Naruto Omnibus Vol. 18 (Manga) (52, 53, 54)

Naruto Omnibus Vol. 19 (Manga) (55, 56, 57)

Naruto Omnibus Vol. 20 (Manga) (58, 59, 60)

Naruto Omnibus Vol. 21 (Manga) (61, 62, 63) [Restocked!: 1/22/2021]

Naruto Omnibus Vol. 22 (Manga) (64, 65, 66)

Naruto Omnibus Vol. 23 (Manga) (67, 68, 69)

Naruto Omnibus Vol. 24 (Manga) (70, 71, 72) [Restocked!: 1/22/2021]

Naruto Shippuden Vol. 28 (Manga)

Naruto Shippuden Vol. 29 (Manga)

Naruto Shippuden Vol. 30 (Manga)

Naruto Shippuden Vol. 31 (Manga)

Naruto Shippuden Vol. 32 (Manga)

Naruto Shippuden Vol. 33 (Manga)

Naruto Shippuden Vol. 34 (Manga)

Naruto Shippuden Vol. 35 (Manga)

Naruto Shippuden Vol. 36 (Manga) [Restocked!: 1/22/2021]

Naruto Shippuden Vol. 37 (Manga)

Naruto Shippuden Vol. 38 (Manga)

Naruto Shippuden Vol. 39 (Manga) [Restocked!: 1/22/2021]

Naruto Shippuden Vol. 40 (Manga)

Naruto Shippuden Vol. 41 (Manga)

Naruto Shippuden Vol. 42 (Manga)

Naruto Shippuden Vol. 43 (Manga) [Restocked!: 1/22/2021]

Naruto Shippuden Vol. 44 (Manga)

Naruto Shippuden Vol. 45 (Manga)

Naruto Shippuden Vol. 46 (Manga) [Restocked!: 1/22/2021]

Naruto Shippuden Vol. 47 (Manga) [Restocked!: 1/22/2021]

Naruto Shippuden Vol. 48 (Manga)

Naruto Shippuden Vol. 49 (Manga)

Naruto Shippuden Vol. 50 (Manga)

Naruto Shippuden Vol. 51 (Manga)

Naruto Shippuden Vol. 52 (Manga)

Naruto Shippuden Vol. 53 (Manga)

Naruto Shippuden Vol. 54 (Manga)

Naruto Shippuden Vol. 55 (Manga)

Naruto Shippuden Vol. 56 (Manga)

Naruto Shippuden Vol. 57 (Manga)

Naruto Shippuden Vol. 58 (Manga)

Naruto Shippuden Vol. 59 (Manga)

Naruto Shippuden Vol. 60 (Manga)

Naruto Shippuden Vol. 61 (Manga)

Naruto Shippuden Vol. 62 (Manga)

Naruto Shippuden Vol. 63 (Manga)

Naruto Shippuden Vol. 64 (Manga)

Naruto Shippuden Vol. 65 (Manga)

Naruto Shippuden Vol. 66 (Manga)

Naruto Shippuden Vol. 67 (Manga)

Naruto Shippuden Vol. 68 (Manga)

Naruto Shippuden Vol. 69 (Manga)

Naruto Shippuden Vol. 70 (Manga)

Naruto Shippuden Vol. 71 (Manga)

Naruto Shippuden Vol. 72 (Manga)

Naruto Shippuden: Itachi's Story Novel Vol. 1: Daylight

Naruto Shippuden: Itachi's Story Novel Vol. 2: Midnight

Naruto Shippuden: Kakashi's Story Novel

Naruto Shippuden: Naruto Story Novel

Naruto Shippuden: Sakura's Story Novel

Naruto Shippuden: Sasuke's Story Novel

Naruto: Chibi Sasuke's Sharingan Legend Vol. 1 (Manga)

Naruto: Chibi Sasuke's Sharingan Legend Vol. 2 (Manga)

Naruto: Chibi Sasuke's Sharingan Legend Vol. 3 (Manga)

Naruto: Sasuke's Story--Star Pupil (Manga)

Naruto: Shikamaru's Story Novel [Restocked!: 1/22/2021]

Naruto: Shikamaru's Story--Mourning Clouds (Manga) [Street Date: 2/2/2021]

Naruto: The Seventh Hokage and the Scarlet Spring (Manga) [Restocked!: 1/22/2021]