NOTICE
May 27, 2019
AAA Anime Inc. will be CLOSED on Monder in observance of Memorial Day.
July 4, 2019
AAA Anime Inc. will be CLOSED on Thursday for Fourth of July.
Pokemon: Ranger and the Temple of the Sea (Manga) (Books)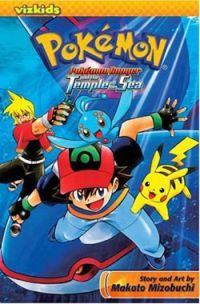 Manufacturer: Viz
Item Code: 1421522888
UPC: 9781421522883
Author: Makoto Mizobuchi
S.R.P.: $9.99
Request this item from your local retailer!

Somewhere in this world there is a Sea Temple created by the People of the Water. The Sea Temple contains a hidden treasure called the Sea Crown, but no one has ever seen the Sea Crown, or even the Sea Temple, because the temple is protected by a secret mechanism. The temple drifts through a vast ocean undetected, waiting. When Ash and Pikachu meet Lizabeth, a descendant of the People of the Water, they dive headlong into a sea of adventure, hounded by the nefarious pirate known as The Phantom! The manga tie-in to Pok?mon Movie 9!