Naruto Shippuden Vol. 47 (Manga) (Books)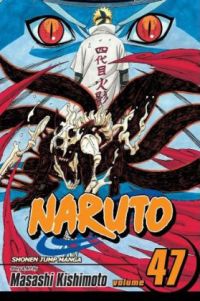 Manufacturer: Viz
Item Code: 1421533057
UPC: 9781421533056
Genre: Action
Author: Masashi Kishimoto
S.R.P.: $9.99
Request this item from your local retailer!

NARUTO © 1999 by Masashi Kishimoto/SHUEISHA Inc.


Naruto is a young shinobi with an incorrigible knack for mischief. He's got a wild sense of humor, but Naruto is completely serious about his mission to be the world's greatest ninja! R to L (Japanese Style). N/A Naruto is a ninja-in-training with a need for attention, a knack for mischief and, sealed within him, a strange, formidable power. His antics amuse his instructor Kakashi and irritate his teammates, intense Sasuke and witty Sakura, but Naruto is serious about becoming the greatest ninja in the village of Konohagakure!
Tracks
Other products for "Naruto" in "Books"

Naruto Vol. 1 (Manga)

Naruto Vol. 2 (Manga)

Naruto Vol. 3 (Manga)

Naruto Vol. 4 (Manga)

Naruto Vol. 5 (Manga)

Naruto Vol. 6 (Manga)

Naruto Vol. 7 (Manga)

Naruto Vol. 8 (Manga)

Naruto Vol. 9 (Manga)

Naruto Vol. 10 (Manga)

Naruto Vol. 11 (Manga)

Naruto Vol. 12 (Manga)

Naruto Vol. 13 (Manga)

Naruto Vol. 14 (Manga)

Naruto Vol. 15 (Manga)

Naruto Vol. 16 (Manga)

Naruto Vol. 17 (Manga)

Naruto Vol. 18 (Manga)

Naruto Vol. 19 (Manga)

Naruto Vol. 20 (Manga)

Naruto Vol. 21 (Manga)

Naruto Vol. 22 (Manga)

Naruto Vol. 23 (Manga)

Naruto Vol. 24 (Manga)

Naruto Vol. 25 (Manga)

Naruto Vol. 26 (Manga)

Naruto Vol. 27 (Manga)

Naruto Omnibus Vol. 1 (Manga)

Naruto Omnibus Vol. 2 (Manga)

Naruto Omnibus Vol. 3 (Manga)

Naruto Omnibus Vol. 4 (Manga)

Naruto Omnibus Vol. 5 (Manga)

Naruto Omnibus Vol. 6 (Manga)

Naruto Omnibus Vol. 7 (Manga)

Naruto Omnibus Vol. 8 (Manga)

Naruto Omnibus Vol. 9 (Manga)

Naruto Omnibus Vol. 10 (Manga)

Naruto Omnibus Vol. 11 (Manga)

Naruto Omnibus Vol. 12 (Manga)

Naruto Omnibus Vol. 13 (Manga)

Naruto Omnibus Vol. 14 (Manga) (40, 41, 42)

Naruto Omnibus Vol. 15 (Manga) (43, 44, 45)

Naruto Omnibus Vol. 16 (Manga) (46, 47, 48)

Naruto Omnibus Vol. 17 (Manga) (49, 50, 51)

Naruto Omnibus Vol. 18 (Manga) (52, 53, 54)

Naruto Omnibus Vol. 19 (Manga) (55, 56, 57)

Naruto Omnibus Vol. 20 (Manga) (58, 59, 60)

Naruto Omnibus Vol. 21 (Manga) (61, 62, 63)

Naruto Omnibus Vol. 22 (Manga) (64, 65, 66)

Naruto Omnibus Vol. 23 (Manga) (67, 68, 69)

Naruto Omnibus Vol. 24 (Manga) (70, 71, 72)

Naruto Shippuden Vol. 28 (Manga)

Naruto Shippuden Vol. 29 (Manga)

Naruto Shippuden Vol. 30 (Manga)

Naruto Shippuden Vol. 31 (Manga)

Naruto Shippuden Vol. 32 (Manga)

Naruto Shippuden Vol. 33 (Manga)

Naruto Shippuden Vol. 34 (Manga)

Naruto Shippuden Vol. 35 (Manga)

Naruto Shippuden Vol. 36 (Manga)

Naruto Shippuden Vol. 37 (Manga)

Naruto Shippuden Vol. 38 (Manga)

Naruto Shippuden Vol. 39 (Manga)

Naruto Shippuden Vol. 40 (Manga)

Naruto Shippuden Vol. 41 (Manga)

Naruto Shippuden Vol. 42 (Manga)

Naruto Shippuden Vol. 43 (Manga)

Naruto Shippuden Vol. 44 (Manga)

Naruto Shippuden Vol. 45 (Manga)

Naruto Shippuden Vol. 46 (Manga)

Naruto Shippuden Vol. 48 (Manga)

Naruto Shippuden Vol. 49 (Manga)

Naruto Shippuden Vol. 50 (Manga)

Naruto Shippuden Vol. 51 (Manga)

Naruto Shippuden Vol. 52 (Manga)

Naruto Shippuden Vol. 53 (Manga)

Naruto Shippuden Vol. 54 (Manga)

Naruto Shippuden Vol. 55 (Manga)

Naruto Shippuden Vol. 56 (Manga)

Naruto Shippuden Vol. 57 (Manga)

Naruto Shippuden Vol. 58 (Manga)

Naruto Shippuden Vol. 59 (Manga)

Naruto Shippuden Vol. 60 (Manga)

Naruto Shippuden Vol. 61 (Manga)

Naruto Shippuden Vol. 62 (Manga)

Naruto Shippuden Vol. 63 (Manga)

Naruto Shippuden Vol. 64 (Manga)

Naruto Shippuden Vol. 65 (Manga)

Naruto Shippuden Vol. 66 (Manga)

Naruto Shippuden Vol. 67 (Manga)

Naruto Shippuden Vol. 68 (Manga)

Naruto Shippuden Vol. 69 (Manga)

Naruto Shippuden Vol. 70 (Manga)

Naruto Shippuden Vol. 71 (Manga)

Naruto Shippuden Vol. 72 (Manga)

Naruto Shippuden: Itachi's Story Novel Vol. 1: Daylight

Naruto Shippuden: Itachi's Story Novel Vol. 2: Midnight

Naruto Shippuden: Kakashi's Story Novel

Naruto Shippuden: Naruto Story Novel

Naruto Shippuden: Sakura's Story Novel

Naruto Shippuden: Sasuke's Story Novel

Naruto: Chibi Sasuke's Sharingan Legend Vol. 1 (Manga)

Naruto: Chibi Sasuke's Sharingan Legend Vol. 2 (Manga)

Naruto: Chibi Sasuke's Sharingan Legend Vol. 3 (Manga)

Naruto: Sasuke's Story--Star Pupil (Manga)

Naruto: Shikamaru's Story Novel [Restocked!: 2/27/2021]

Naruto: Shikamaru's Story--Mourning Clouds (Manga) [New!: 2/27/2021]

Naruto: The Seventh Hokage and the Scarlet Spring (Manga)