Zelda Legendary Edition Vol. 4 (Manga) (Minish Cap/Phantom Hourglass) (Books)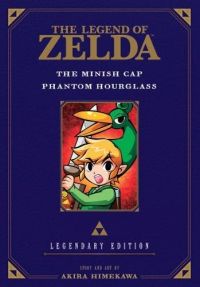 Manufacturer: Viz
Item Code: 1421589621
UPC: 9781421589626
Author: Akira Himekawa
S.R.P.: $17.99
Request this item from your local retailer!

Link must defeat evil at every turn in his perilous quest to help Princess Zelda!
The Legend of Zelda: Legendary Edition contains two volumes of the beloved The Legend of Zelda manga series, presented in a deluxe format featuring new covers and color art pieces by Akira Himekawa.

The battle for Hyrule and the Sacred Realm has begun! A young boy named Link must defeat evil on his long, perilous quest to find the spiritual stones that hold the key to the Triforce, and deliver them to Zelda, princess of the land of Hyrule.

As a hero and a knight of the realm, it is Link's duty to serve Princess Zelda and protect the land of Hyrule. Dangers come in all forms on both land and sea. Join Link on quests to overcome the threats posed by the Minish Cap and the Phantom Hourglass.