NOTICE
May 27, 2019
AAA Anime Inc. will be CLOSED on Monder in observance of Memorial Day.
July 4, 2019
AAA Anime Inc. will be CLOSED on Thursday for Fourth of July.
JoJo's Bizarre Adventure Part 3 Stardust Crusaders Vol. 4 (Manga) (Books)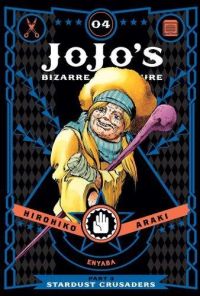 Manufacturer: Viz
Item Code: 1421591707
UPC: 9781421591704
Author: Hirohiko Araki
S.R.P.: $19.99
Request this item from your local retailer!

A multigenerational tale of the heroic Joestar family and their never-ending battle against evil!
The legendary Shonen Jump series is now available in deluxe editions featuring color pages and newly drawn cover art! JoJo's Bizarre Adventure is a groundbreaking manga famous for its outlandish characters, wild humor and frenetic battles.

JoJo and friends find themselves facing their strongest enemy yet--an old woman! But even old women can be dangerous foes when armed with the power of a Stand! But what is her Stand, and how is it tied to a desolate village filled with strange mist? All will be answered as the adventure continues!