Berserk Vol. 38 (Manga) (Books)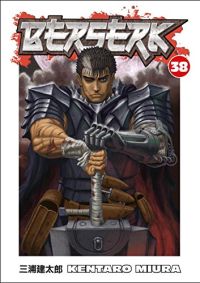 Manufacturer: Dark Horse
Item Code: 1506703984
UPC: 9781506703985
Author: Kentaro Miura
S.R.P.: $14.99
Request this item from your local retailer!

Guts the Black Swordsman and company reach the isle of Skellig in hopes that Elven magic can cure the afflicted Casca, but the cure could come at a deadly cost. Meanwhile, Guts' Band of the Hawk comrade Rickert journeys to the city of Falconia, the seat of power for Griffith, the resurrected former Hawks commander. But the glittering towers of Falconia cast the darkest of shadows, and a legion of demonic monstrosities dwell in the darkness!