One Piece Vol. 1: Romance Dawn (Manga) (Books)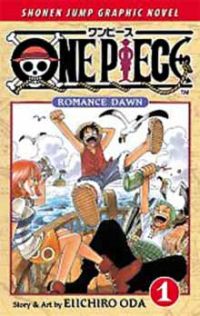 Manufacturer: Viz
Item Code: 1569319014
UPC: 9781569319017
Author: Eiichiro Oda
S.R.P.: $9.99
Request this item from your local retailer!

This series features Monkey D. Luffy, whose main ambition is to become a pirate. Eating the Gum-Gum Fruit gives him strange powers but also invokes the fruit's curse: anybody who consumes it can never learn to swim. Nevertheless, Monkey and his crewmate Roronoa Zoro, master of the three-sword fighting style, sail the Seven Seas of swashbuckling adventure in search of the elusive treasure "One Piece."
ONE PIECE ©1997 by EIICHIRO ODA/SHUEISHA Inc.
Tracks