NOTICE
Novel Corona 2020
| | |
| --- | --- |
| Nov. 26, 2020 | AAA Anime Inc. will be CLOSED on Thursday in observance of Thanksgiving. |
| Dec. 24-25, 2020 | AAA Anime Inc. will be CLOSED on Thursday and Friday in observance of Christmas Eve and Christmas Day. |
| Jan. 1st, 2021 | AAA Anime Inc. will be CLOSED on Friday in observance of New Years Day. |
| UPS Holiday Schedule Notes | UPS Guarantee is suspended for all UPS Ground shipments picked up or scheduled for delivery Nov. 29 - Dec. 24. |
Dragon Ball Vol. 1 (2nd edition) (Manga) (Books)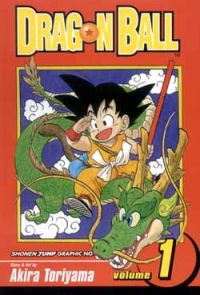 Manufacturer: Viz
Item Code: 1569319200
UPC: 9781569319208
Author: Akira Toriyama
S.R.P.: $9.99
Request this item from your local retailer!

Who or what will Goku and Bulma encounter on their quest for the Dragon Balls? One ball is owned by the Turtle Hermit, a venerable, respected (old, lecherous) martial artist who'll gladly give it up: for a price! One ball is in a humble village, but to get it, they'll have to save the village from Oolong, the shapeshifting terror!

Then, with a humbled Oolong in tow, it's off to the desert where they are attacked by the bandit Yamcha and his assistant Pu'ar! The next ball is on fiery Frypan Mountain, guarded by the fearsome Ox King.and his fearsome daughter Chi-chi! But with magic cloud and magic staff in tow, Goku is ready to face anything!

184 pages, b&w
DRAGON BALL ©1984 by BIRD STUDIO/SHUEISHA Inc.
Tracks