Dragon Ball Vol. 8 (2nd edition) (Manga) (Books)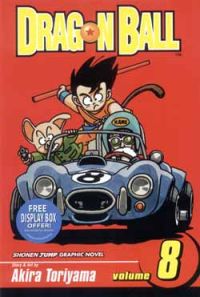 Manufacturer: Viz
Item Code: 1569319278
UPC: 9781569319277
Author: Akira Toriyama
S.R.P.: $9.99
Request this item from your local retailer!

Viz graphic novel story & art by Akira Toriyama NO REST FOR GOKU After the setbacks Goku's dealt the Red Ribbon Army, Commander Red has hired Taopaipai, the world's deadliest assassin, to kill him! To beat this powerful opponent, Goku must travel to the top of the miles-high Karin Tower to meet the hermit master Karin and get his magic elixir that can increase strength tenfold! Even with the elixir, does Goku have the strength to beat Taopaipai? And even if he wins, to get the Dragon Balls he'll have to take them from Red Ribbon HQ--and fight the entire Army--ALL AT ONCE!
B&w, 192 pages ISBN: 1-59116-005-7 Available Date: May 2002
DRAGON BALL ©1984 by BIRD STUDIO/SHUEISHA Inc.
Tracks