Dragon Ball Vol. 9 (2nd edition) (Manga) (Books)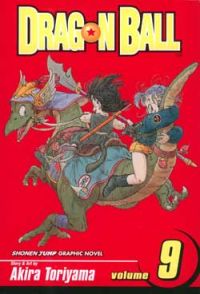 Manufacturer: Viz
Item Code: 1569319286
UPC: 9781569319284
Author: Akira Toriyama
S.R.P.: $9.99
Request this item from your local retailer!

The Red Ribbon Army has been defeated, but when the dust clears, one of the seven Dragon Balls is still missing. To find it, Goku and his old friends go to the mysterious palace of Baba Uranai to divine its location, but to be granted the wisdom of the All-Seeing Crone, they must first defeat her five ghoulish champions in combat - Count Dracula, the Mummy, the Invisible Man, the Devil, and a final, mysterious super fighter!

Printed in traditional right-to-left Japanese format!

Story & Art by Akira Toriyama
192 pages
DRAGON BALL ©1984 by BIRD STUDIO/SHUEISHA Inc.
Tracks